Bay Area progressive rock act Dredg has been known to find inspiration for songs and albums in pretty lofty places. The band's 2002 album El Cielo was based on Salvador Dali's famous painting Dream Caused by the Flight of a Bumblebee around a Pomegranate One Second Before Awakening, and certain songs on the just-released album The Pariah, The Parrot, The Delusion were inspired by controversial British Indian novelist Salman Rushdie's essay "Imagine There's No Heaven: A Letter to the 6 Billionth Citizen."
But the vision behind The Pariah's haunting track "Lightswitch" comes from a very different (and much more accessible) place: the band's passion for what they do.
"'Lightswitch' is an ode and somewhat of a love song to music," Dredg vocalist Gavin Hayes tells SPIN.com. "It was derived from the twangy guitar riff you hear at the beginning of the track. From there, it unfolded rather quickly."
To express that appreciation for music, Dredg opened their sonic toolbox on "Lightswitch." In addition to recording some of the vocals in a tunnel at California's Marin Headlands (a park at the north end of the Golden Gate Bridge), they employed San Francisco string metal band Judgment Day to add cello and violin, which Hayes says makes the song feel "much more grandiose."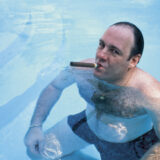 During a recent U.S. tour, Dredg stopped at Emo's in Austin, TX to perform a sweaty rendition of "Lightswitch." Watch SPIN.com's exclusive video of the performance and give us your thoughts in the comments section below!
WATCH: Dredg, "Lightswitch"