On a night that celebrated a video game called DJ Hero, two of the biggest MCs in history racked up all the high scores. At the 2,200-capacity Wiltern Theater in Los Angeles, Jay-Z and Eminem — each supported by the same 10-piece, horn-section abetted band — blasted through succinct but airtight sets packed with hits and obscurities to a packed house of celebs at a party that hearkened back to the music biz's halcyon years. (See a photo gallery of the show here)
Which makes sense, given that folks actually making money on music these days, i.e. the creators of the Guitar Hero franchise, were footing the bill.
Before Jay-Z took the stage, rocking a baby-fro and a black, skull-print t-shirt, Jeremy Piven and Leonardo DiCaprio were sharing pleasantries and fist-pumps in the bathroom, while actor Breckin Meyer and Usher shared stories of some kind or another in the upstairs balcony.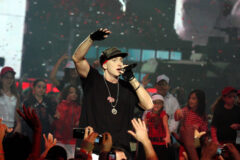 When the music started, though, all eyes were on Jay, whose set was a pared-down run-through of his 2008 tour setlist, with the rapper bouncing through classics like "Nigga What, Nigga Who" and "Izzo (H.O.V.A.)" with unencumbered confidence and rapid-fire flow. As front pages from Obama's election night victory scrolled by on massive, chameleonic video screens, Jigga dropped his still-timely "My President Is Black" backed ably by that crack band, which featured DJ AM, who'd earlier kicked the night off with a slew of mash-ups alongside partner in crime/Blink-182 drummer Travis Barker.
As Jay's set wound down, the chart-topping/Sacha Baron Cohen-bottoming Eminem jumped onstage to join Hova for their 2001 Blueprint collaboration, "Renegade," which found the duo finishing each other's couplets in a display of unabashed mutual respect.
Then, for five too-short songs, a nimble, athletic-looking Marshall Mathers borrowed Jay's band to prove that his extended hiatus wasn't for naught. He's obviously still getting back his groove, depending a bit too much on a hype-man for vocal support, and, following a frenetic rendition of 8 Mile hit "Lose Yourself," even the band seemed surprised when Em left the stage.
But the spark that made him the most exciting man in hip-hop's still there: He plowed through Relapse's "We Made You," spinning and twirling like Kobe through Denver while the song's pop-culture-mocking video played behind him, including that scene where he takes a Kim Kardashian clone and stuffs her in a meat grinder. (In case you're wondering, the real Kim Kardashian was not harmed during the show, as she remained safe and sound while looking on from the balcony.)
It's that kind of bravado that gave Eminem his rep to begin with, and his ability to garner the respect of peers like Jay-Z without ditching his macabre sense of humor is one of the many reasons fans revere him like a true hero, not a virtual one.