She may have cancelled her return to the stage, but in Kanye West's new video, pop icon Rihanna is back in the limelight — at least in a preliminary cut of the video that leaked online earlier today, but has since been removed at Kanye's request.
The clip for 808s and Heartbreak single "Paranoid" features the embattled pop star front and center, as she goes from lounging in lingerie, to hitting the road for a midnight drive and then back to bed.There isn't much of a narrative beyond Rihanna posing in a variety of sexy ways — then again, in the words of one SPIN staffer after seeing the video: "Less is more."
Kanye had the leaked clip yanked from YouTube because it was an unfinished cut. He explains on his blog: "It hurts me to see the old and very wrong version of the 'Paranoid' video get leaked all over the net while I was on an 11 hr flight and couldn't do anything about it. It's just frustrating when this stuff happens because I really care about the product and since videos never get played any way you might as well tweak them and make them as special as possible… Thank you everybody for your support but that video was not up to my standards."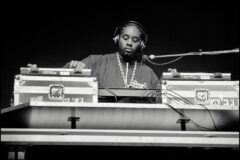 To satiate eager fans, Kanye posted screenshots from the official "Paranoid" video.