Wilco's new album, the cunningly-titled Wilco (The Album), has been in constant rotation here at SPIN HQ. We love it. And now, in advance of its official June 30 release, you can hear it, too — the Chicago band just posted a stream of the entire 11-track record to their website!
Click here to listen (yes, that image with the camel will be the album's cover art!)
Frontman Jeff Tweedy recently spoke to SPIN.com about Wilco (The Album), and how his lyrics have changed on its songs. "There are definitely more tracks on this record that aren't directly from my experience. There's a song written from the point of view of a guy who just killed his girlfriend," Tweedy says of "Bull Black Nova," a track that captures its protagonist's edginess in jittering electric guitar and piano.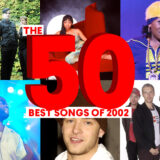 Read our complete story with Tweedy here.
So, what do you think of Wilco (The Album)? Tell us in the comment section below.