Surrealist songs about robots, fans with a penchant for drug use, gigantic UFOs that shoot confetti — there's no denying the Flaming Lips' status as psychedelic rock titans. But now the Oklahoma band are taking the ultimate plunge in conceptual bombast by releasing their first-ever double album late this September.
"Somewhere along the way it occurred to me that we should do a double album," Coyne told Billboard.com of their follow-up to 2006's At War With The Mystics, tentatively called Embryonic. "Just this idea that you can kind of weave a couple of themes into there and you can sort of sprawl a little bit."
The band — frontman Wayne Coyne, bassist Michael Ivins, and guitarist Steven Drozd — have written 13 tracks for the new release, and plan to pen eight to nine more in Drozd's empty, unsold house, which the axeman put on market last summer. "People locally do know that we're recording there," Coyne told EW. "I've talked to quite a few musicians who have gone to an open-house day and looked around and said, 'Oh, this is where they're doing their new record.'"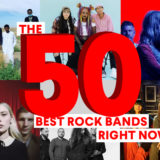 So how do the new songs sound?
Coyne said that one new track,called "Convinced of the Hex," is like "Joy Division-meets-Miles Davis Group," while "I Don't Understand Karma" is his response to John Lennon's "Instant Karma."
"There was an element of accidentally stumbling upon more spontaneous sort of freak-out stuff," Coyne said of the sessions. "We were sitting at Steven's house and we just started out having these freak-out jam sessions where he'd play drums and I'd play bass and we just would sort of do freaky stuff. Some of those recordings, even though they're not recorded very well, really had a spontaneity about them that we probably wouldn't have purposely done."
The Flaming Lips have a handful of gigs leading up to September's All Tomorrow's Parties concert, for which the band is picking the performers. Fans heading to the shows can expect new material. "We're up for anything," Coyne said.