While most of America was grillin' and chillin' on Memorial Day, the Beastie Boys went on a veritable media blitz, sending out a mass email to their fans revealing the title of their forthcoming release (the follow-up 2007's mostly instrumental The Mix-Up) and stopping by Late Night with Jimmy Fallon to chat about the album.
"Our new record that is coming out that we finished the other day is called Hot Sauce Committee," the group said in their email, and, according to their interview with Fallon, it'll be out in September.
But everything else they discussed with the late night host bordered on ridiculous — with one funny bit referencing Microsoft co-founder Paul Allen. Here's a sample:
Mike D: "We recorded part of it on Paul Allen's boat. He's got a recording studio in his yacht. Yacht doesn't do it justice — it's a mega-liner."
MCA: "He's got a submarine on the ship — Adam actually played a guitar solo on the submarine."
Mike D: "Other people have recorded on the boat, but I believe we are the first to record on the submarine."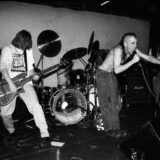 And Fallon — well, he just played along and looked cute.
The album, which was initially titled Tadlock's Glasses, will feature rapper Santigold and has been described by the band as both "bizarre" and "political" (if — in the words of Beastie member Adam "Ad-Rock" Horovitz — one considers toilet talk and fart jokes to be political).
To see the band's full Late Night appearance, including a performance of their 1992 classic "So What'cha Want,"click here. The interview starts at the 14-minute mark, and the performance starts at 19:30.
The rap trio has headline slots scheduled at Bonnaroo, Lollapalooza, All Points West, Outside Lands, and Austin City Limits this summer.