Stripping never goes out of fashion. And this week's hot music video from Brooklyn duo Matt and Kim makes that point with style. Meanwhile, Boston indie darlings Passion Pit's clip treats fans to a psychedelic extravaganza.Watch both below, then let us know what you think in the comments section.
Matt and Kim: Bringing new meaning to the term "overexposure," the quirky pair get dropped off in Times Square in the middle of the winter, rip off their clothes, and go for jog to the tune of "Lessons Learned." The moral of this story? Naked or not, look both ways (and not at your nude cohort) before crossing the street.
WATCH: Matt and Kim, "Lessons Learned"
Passion Pit:
The blog darlings offer a stylized twist on the art of flyering in a new video for their catchy tune "The Reeling." Frontman Michael Angelakos suffers from some sort of digital-billboard-face disorder, with images flashing across his mug — but it doesn't seem to affect his appeal with the ladies, who join the singer in a confetti-crazy basement rave.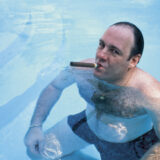 WATCH: Passion Pit, "The Reeling"