To chart the success of Swede popster Lykke Li would be the equivalent of drawing blueprints for an Olympic ski jump — the 23-year-old has gone from obscurity to ubiquity on a steep trajectory. And now, less than a year after her debut dropped, she has America's highest-rated TV show, American Idol, championing her infectious, sugary pop tunes.
Last night, just days after Lykke Li's much-buzzed performance on Coachella's second biggest stage (and her guest spot on the main stage with Peter, Bjorn & John), American Idol contestants covered the songstress' "I'm Good, I'm Gone" in the show's weekly, homemade commercial for Ford. In the hokey video, the hopefuls quit their day jobs and rock out at an open mic night. It's too cute — and they avoid totally butchering the track.
Songs by other less-mainstream acts have been in covered in past videos, including Modest Mouse's "Float On." But last night's pick is the most risky yet — or is it? American Idol might be onto something. Lykke Li has all the makings off a bonafide, worldwide supa-dupa star: She's sassy and sexy in her jangly necklaces and sleek, hip-hugging black garb. She mixes world music beats with electro pop to create a sound that's equally at home in a hip Brooklyn bar as it is playing over the speakers in a Wal-Mart. And she hammers her heartbroken epithets into your head with soft, repeated whispers — Little bit / Little bit / I'm a little bit in love you. You couldn't forget it if you tried.
She even has a fitting back story: Born to a painter mother and musician father in Sweden, she had a worldly upbringing, living on a mountaintop in Portugal, vacationing in Morocco, and spending summers in Nepal. Her debut album, Youth Novels (one of SPIN's 40 Best Albums of 2008), tore up the charts when released in Scandinavia, and soon ignited stateside music blogs.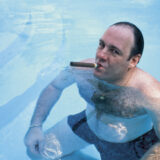 Kudos to American Idol for exposing Lykke Li to the masses. It's time to share her with the rest of the world.
WATCH: American Idol contestants cover Lykke Li