You've heard the old adage about "suffering for your art" — and Lily Allen and Prince are out to prove it:
Lily Allen: The Brit songbird has admitted to being a bonafide maneater in her quest for hits. "I've actually broken up with boyfriends for inspiration," she confessed. "When I hit a period of not being able to write music, I get up and walk away. It's pretty mean but it's true." [Via Daily Express].
Prince: During a candid interview with PBS's Tavis Smiley, the Purple One dished on all sorts of personal struggles that have influenced his art. On the conversational agenda: Prince's struggle with epilepsy as a child ("I used to have seizures when I was young") and getting teased by the kids at school ("early in my career I tried to compensate by being as flashy as I could and as noisy as I could.")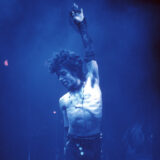 Gallows: The U.K. punk outfit recently boasted that they'd recorded the sound of a pig being slaughtered for inclusion on their forthcoming new album Grey Britain. Yikes! But after some back and forth with PETA, the band copped to the fact that they'd picked up the track on the internet. "We would never harm an animal for the sake of our music," they said in a statement sent to NME. "The sample is taken from the internet and we even traced it to come from Spain where they still use inhumane forms of slaughter.