Feist's new music video for "The Water," a tune off her breakout 2007 album The Reminder, is a lot different from the peppy web hit that was the clip for "1234." In fact, pretty much the only thing they have in common is Feist.
The clip is directed by Feist's fellow Broken Social Scene pal Kevin Drew, and stars Feist with actors David Fox and Cillian Murphy.
In an interview, Drew said the video's concept came about because he thought Murphy and Feist had similar eyes. "It's about the beauty of their eyes. Their eyes are going to tell the story. There's going to be no words. We're going to have snow, we're going to have fire, we're going to have a mummy, there's going to be some ice and all eyes."
Below, watch the short film/music video. Then tell us what you think in the comments section.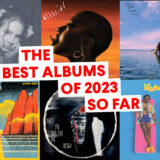 WATCH: Feist, "The Water"
https://www.youtube.com/embed/z0SgWujjStQ