Belle and Sebastian frontman Stuart Murdoch explains his new album, God Help the Girl, in a just-released video interview.
"I was out for a run and I got this tune in my head and it occurred to me that it wasn't a Belle and Sebastian song," Murdoch says in the clip. "I could hear female voices and strings, I could hear the whole thing, but I just couldn't envisage myself singing it with the group."
To find those mystery vocalists, Murdoch created an open talent call on social networking site imeem.com, asking interested singers to submit demos. From the entries, Murdoch selected vocalists Brittany Stallings, of Olympia, WA, and Dina Bankole, of Jackson, MI, to make the trip to Glasgow in February 2008 to record God Help the Girl, which will drop June 24 via Rough Trade.
The album will also feature vocals from Catherine Ireton (whose photo has previously appeared on the Belle and Sebastian single sleeve for "White Collar Boy"), the Divine Comedy's Neil Hannon, Smoosh's Asya, and a 45-piece orchestra.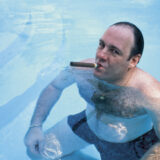 The album's first single, the '60s-girls-group-styled "Come Monday Night" — which sounds a bit like Au Revoir Simone meets (who else?) Belle and Sebastian — is currently streaming on MySpace ahead of its May 11 release. Fans can also register to download the tune for free by signing up at godhelpthegirl.com.
Below, check out the Murdoch video.
WATCH:Stuart Murdoch on God Help the Girl