Beck is opening up his vaults for a deluxe edition reissue of his 1994 release One Foot in the Grave.
The album, Beck's only LP for Olympia, WA, indie K Records, was recorded before — but released three months after — his breakout major label debut, Mellow Gold. The reissue will drop April 14 via Interscope. It includes all 16 original songs, which featured musicians from bands such as Built to Spill, Spinanes, and Love As Laughter — plus another whole album's worth of previously unreleased bonus tracks!
"Well, it's been out of print for a few years, so it's something we've been planning, but I knew that we had these extra tracks," Beck recently told Japanese newspaper the Daily Yomiuri of One Foot in the Grave.
"I've actually been working on this for the past two or three years. [On] the original tapes there were an extra maybe 30 songs that weren't on the record and I picked the best… and added them on there, so it's got about a little over a dozen extra tracks that no one's heard before."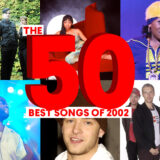 These include three tunes from an out of print K Records 7″ single, including an early demo version of "It's All In Your Mind" (from 2002's Sea Change), "Feather in Your Cap" (a beta version of a tune which was later revamped for the Suburbia film soundtrack and also appears on the Odelay Deluxe Edition), and "Whiskey Can Can." [Via NME]
Other bonus tracks include "Teenage Wastebasket," "Burning Boyfriend," and "Your Love Is Weird" — yep, sounds just like Beck's psychedelic, slacker-dude folk days!
Check out the complete track listing below:
Original album:
"He's A Mighty Good Leader"
"Sleeping Bag"
"I Get Lonesome"
"Burnt Orange Peel"
"Cyanide Breath Mint"
"See Water"
"Ziplock Bag"
"Hollow Log"
"Forcefield"
"Fourteen Rivers Fourteen Floods"
"Asshole"
"I've Seen The Land Beyond"
"Outcome"
"Girl Dreams"
"Painted Eyelids"
"Atmospheric Conditions"
Bonus tracks:
"It's All In Your Mind" (K Records 7″)
"Whiskey Can Can" (K Records 7″)
"Mattress"
"Woe On Me"
"Teenage Wastebasket"
"Your Love Is Weird"
"Favorite Nerve"
"Piss On The Door"
"Close To God"
"Sweet Satan"
"Burning Boyfriend"
"Black Lake Morning"
"Feather In Your Cap" (K Records 7″)
"One Foot In the Grave"
"Teenage Wastebasket"
"I Get Lonesome"