When Franz Ferdinand broke big, Alex Kapranos seemed older and wiser than many of his buzzy peers. Little surprise, then, that his band is still thriving five years on. "I hope we haven't written our best song," he says. "That's the sign a band is still alive  — they're not satisfied."
Either Alex Kapranos is hungry or the traditional English dish of beans on toast has played a pretty memorable role in his life. The Franz Ferdinand singer-guitarist will refer to it twice within an hour: once as an example of a meal he couldn't afford while playing in '90s-era Glaswegian acts such as the Amphetameanies and Yummy Fur ("Being in a band didn't buy me my beans on toast!"), and again as a symbol of the normalcy he would like to preserve now that his band has sold more than five million records worldwide ("There's a character that I play onstage, and I can't let him loose in the supermarket when I'm buying my beans on toast").
It is breakfast time in New Zealand, where the 37-year-old frontman and former chef/lecturer/amateur food critic is on Christmas holiday with his longtime girlfriend, Fiery Furnaces singer Eleanor Friedberger. Tomorrow, he will embark on a tour to support Tonight: Franz Ferdinand, a dance-floor-friendly third album, which the four-some intended to be a departure from the post-punk bonhomie of their breakout single "Take Me Out" and everything after it. "We started out rejecting what we were hearing on British radio, and we've returned to that contrariness," says Kapranos. "Except this time we are rejecting our own sound."
When did you first decide you wanted to make music for a living?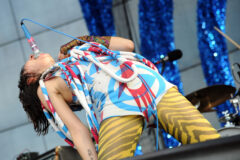 I started writing songs with my close friend Andrew when I was about 14, but we never thought of playing them for anyone else. Neither of us had ever been to a concert until Andrew got us tickets to see Huey Lewis at the Scottish Exhibition Centre in Glasgow, because he knew that Back to the Future was my favorite film. Our seats were in the back row of this massive ballroom, and the band was at the end of a two-year tour, so they didn't have much energy left, and we both came to the conclusion that gigs were crap and records were amazing. It wasn't until I started going to smaller punk shows around Glasgow that my opinion changed. So I toiled around in bands for the next ten years and he became an astrophysicist.
You were a promoter at the Glasgow club 13th Note when Mogwai and Belle and Sebastian's Stuart Murdoch played their first shows there. Did you help create that scene? Or do you object to that word?
I don't think it's a word you need to shy away from because it's true. Basically, this guy Jim had the idea to start a club night on Tuesdays. Nobody turned up for the first gig apart from my band, the Blisters. It was a thrashy band and we had too much energy, but we thought it was fantastic that we got to play without anybody telling us to stop. Jim decided he'd had enough, so I thought: I can be a promoter! And I made a rule to stop listening to bands' demo tapes and instead just talk to the people in the group. That was really why the club worked — it was all based on whether we got on together. It was very raw and unpredictable, and I loved it. Of course, most bands, when they start off, are pretty awful. I didn't grasp the basic principle of being a promoter, which was: Put on music but also generate an income. I was on the dole most of the time.
Guitarist Nick McCarthy once described Glasgow as "hardcore."
Well, there were some real wankers who weren't famous but would act like aloof rock stars. Mostly, though, it was insular in the sense that it was apart from the rest of the world. The late '90s in the U.K. was the era of Britpop. It had absolutely nothing to do with our lives in Glasgow, and there was a major rejection of it. That was a London scene created by the press to glorify people who sang about being out in London.
You attended divinity school for a year. Were you religious at the time?
I was certainly curious. But it was the wrong school to go to. I was a 17-year-old sitting in a classroom with middle-aged men who wanted to be ministers. These people had already experienced a bit of life, and they had decided they had a calling for the Church of Scotland. One day a fellow student told me, "Alex, we've been holding prayer meetings about you because we heard you were smoking grass." I thought to myself, "I've got to get out of here."
Had you been smoking pot?
[Laughs] It was a terrible rumor. I don't know who started it.
You worked in various restaurants for many years before forming Franz Ferdinand. Is it true that kitchens are crazy places where loads of drugs are done?
Oh, yes. Those guys party a lot harder than guys in bands. Traditionally, lots of vagrants and unemployable characters wind up working in kitchens. The fact that it was this hard, bright, frantic place full of misfits and extreme characters appealed to me straight away. It's a job I would return to whenever I was skint.
Your 2006 book, Sound Bites: Eating on Tour With Franz Ferdinand, is a very obsessive food diary. Do you plan to continue writing about food?
No. When [U.K. newspaper] The Guardian first asked if I'd write those food columns, I was quite chuffed, but I was worried because I wasn't a food critic. Then I remembered working in my first restaurant job in Fort William [in the Scotland Highlands] when a chef asked, "Hey, you want a slice of shark?" And my response was, "Shark? What the fuck?" So I figured it would actually be interesting to write from a naive perspective. But then the book was published and all of a sudden I was becoming a food writer. I had a couple of calls from TV stations asking if I wanted to present food programs, and I thought, "God, this has got to stop. This is not who I am."
I suppose there's an irony to the fact that there are things that come out in lyrics that I'd never discuss in everyday life.
You spent many years playing with experienced musicians in bands like Yummy Fur. Why did you form Franz Ferdinand with bassist Bob Hardy when he couldn't play an instrument?
It started as an argument about how anybody could be a musician. In 1999, Bob was going out with my [then] girlfriend's best friend. He told awful jokes about dead babies — I thought he was an idiot. But we had a few drinks and I realized he was all right, so I got him a job as a dishwasher. During our downtime, we'd drink cooking brandy and talk about our imaginary band — about how we'd meet the eyes of the audience, be incredibly emotional, and capture the experimentation of the avant-garde while keeping melody. But he had no interest in being a musician. Then my friend Mick, who was in the Amphetameanies with me at the time, offered me a bass guitar on the condition that I do something useful with it. So Bob and I drank some whiskey, and I showed him how to play an early version of "This Fire." I think in Bob's head, he was going, "I'm in art school. Getting a band together is the sort of thing you do when you're in art school."
As a band, you guys seem very chummy. When was the last big fight you had, and what was it about?
Bob and [drummer] Paul [Thomson] are very peaceful. It's Nick and I who are more extreme characters. At the end of 2004, we were playing a festival in the Zenith, which is this big arena just outside of Paris. I can't remember what started it — something about a light switch. This huge fight erupted and we ended up laying into each other in the dressing room. Then we were told, "You have to be onstage in five minutes." So we played the gig. It was a great gig! Then we went backstage and picked up the fight. Chairs were upturned and food was everywhere. Then someone comes to the door and tells us that the guys from our label want to give us our gold discs. So we stopped the fight again and got the gold discs. And then our manager says, "Oh, we've just got this message from the queen. She wants you to come play a garden party at Buckingham Palace." And we're like, "What the fuck is going on here?" But we go back inside and start the fight again and now there are gold discs flying all over the place. I remember being dragged out of the dressing room by five guys and Jarvis Cocker staring at us. It was totally embarrassing. I realized I'd been a complete idiot.
Looking at bands who had big moments around the time you guys came out but are no longer on people's radars, do you worry about Franz Ferdinand's ability to remain popular?
I don't know. I like the fact that a band can disappear and come back after a while. At the end of 2006, we had to force ourselves to do that. I've always been awful at planning for the future. My family and my girlfriend and everyone I know have been completely disappointed by the fact that I can't plan five hours ahead, much less five days or five years.
Did you take a break after 2005's You Could Have It So Much Better because you were disappointed with it?
Well, after the first record, I was thinking I wanted to do album after album like they did in the '60s, not considering that those bands didn't tour around the world the way we did. I can't regret [the second album] now. We were desperate to get back into the studio. But if we had done that again, it would have been a third record with the same sound as the first two, and we wanted something different. Lyrically and musically, Tonight is very much a nighttime record, but there were no preconceived notions when we started.
It was reported that one potential producer didn't want to work with you on Tonight due to a disagreement about drinking in the studio.
I think [Cher collaborator] Brian Higgins was surprised by how much whiskey Nick and I got through and how undignified our approach to making our record was. The bands he usually works with don't really behave in the same sort of way. We just wanted to lose our self-awareness. Dan Carey [Hot Chip, Lily Allen] was the ideal collaborator because he had this mad-scientist approach to being in the studio. When we had a ridiculous idea, he'd say, "I love it."
Speaking of, why did you use human bones for percussion on "No You Girls"?
We tried maracas, we tried a tambourine; they seemed a bit obvious. I had bought a box of bones at an auction for £12 — the idea that you can get somebody's mortal remains for that price is a little sad — and they were lying around the studio. One day, I picked up the pelvis bone and started rattling the collarbone inside of it. Paul had two shoulder blades, and Nick had the skeleton's hands for clapping. We didn't have the skull, but we had all the teeth, so we rattled them around in a glass jar. There was no voodoo to it. They just happened to make a good sound.
A lot of Franz Ferdinand songs seem to be about rituals of flirtation and romance, especially on Tonight. Is that your comfort zone?
Far from it — that's the least comfortable zone to be in. It's the moment where you're actually making yourself quite vulnerable in terms of being open to rejection. I am not interested in writing songs that say, "I am definitely in love." We might be aware of the effect we have on the opposite sex, but we can never truly understand them. I will never know what it's like to be a woman.
You and Eleanor share a house in Brooklyn, but it must be hard to spend time together with your various projects and touring schedule. On the new song "Live Alone," you sing, "I want to live alone because the greatest love is always ruined by the bickering." Is that autobiographical?
I feel like I have to be a bit cold to you now because I've decided I can't talk about certain parts of my personal life. Watching celebrities bare it all in tabloids and on TV shows, I realize that there's nothing that's purely theirs anymore. It's very difficult for me because I have this desire to be honest and open. When I write, I have to draw on the essence of what makes me who I am. But to avoid being a celebrity, I feel like I have to say, "Eleanor? Eleanor who?" I suppose there's an irony to the fact that there are things that will come out in lyrics that I would never, ever discuss in everyday life.
But in Sound Bites, you share stories about losing your virginity and about how the taste of bull's testicles reminded you of why an ex-girlfriend objected to oral sex. Did you find it easier to be more confessional in that venue?
Those are just funny anecdotes. I would tell them to my friends for a laugh if I was out at the pub. They're not the corners of my soul. I think the reason I'm a bit wary of disclosing too much information about my life is because I had a really horrible experience a couple of years ago. Some crazy stalker fan got access to some really personal details of my life. The idea that there are people who aren't just satisfied with listening to the music — that they want to suck out the very essence of my soul like some vampire — made me want to withdraw further.
You didn't become famous until you were 32. Are you happy it played out this way, or do you ever wish it happened sooner?
There are benefits to both. I had as hedonistic a time in my 20s as I probably would have had if I was a rock star or whatever. And I'm very pleased that I had the opportunity to live in the parallel universe we created in Glasgow. Because if you do think about being famous, it becomes a burden, and you're less likely to try perverse ideas. It's the perverse ideas, the unpredictable ideas, that make being in a band palpably exciting.
Discography: Franz Ferdinand
A guide to the great Scots
Franz Ferdinand
2004
Love 'em and leave 'em — that's the motto on this debut, as the Scotsmen literally bang, swagger, and stomp at a breakneck pace through aggressive post-punk nuggets like "Take Me Out" and "Darts of Pleasure," the frantic vroom of their guitars pausing only for Kapranos' husky warble about a girl named Jacqueline.
You Could Have It So Much Better
2005
A follow-up nearly as good as, if not all that different from, the first. Caffeinated rhythms encourage unholy behavior on "The Fallen," while the Kinks-channeling "Eleanor Put Your Boots On," an ode to Kapranos' Fiery Furnaces ladyfriend, flutters like a stomach full of butterflies on the roller-coaster ride referenced within.
Tonight: Franz Ferdinand
2009
"Let's get high," coos Kapranos on slick first single "Ulysses." That line, combined with the disco intro and dark electronic pulse of the clavinet, properly announces this as a weirder, though still distinctly Franz, concept album: a dance-off full of sweat and shimmy that eventually sways to the sound of collective comedown.