If you happen to stop into a Target this weekend and see a preponderance of people clad in purple, don't be alarmed — they're just Prince fans.
On Sunday, three albums from rock's reigning funk genius will go on sale exclusively at the retailer (though you can also get them by buying a membership to the artist's Lotusflow3r.com website).
As a Prince fan, I'm keen to hear the eccentrically titled albums (the guitar-heavy LOtusFLOW3R, electronic-oriented MPLSoUND, and pop-centric Elixer — featuring Bria Valente on vocals), but I'm keeping my expectations low. Historically, the Minneapolis funkateer's best work doesn't come in big packages. I've listened to all of 1998's four-disc Crystal Ball. It's highly unlikely I'll do it again. 1996's triple-disc Emancipation is better, but you've got to a wade through a lot of unmemorable soul and pop before you get to a gem like "the Holy River."
So while we're hoping for three great new albums, I celebrate his Purple Majesty's return with his Top 10 Tunes of All Time.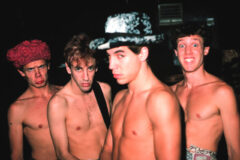 10. She's Always in My Hair
A psychedelic rocker with a terse guitar riff and staccato keyboard part, this 1985 song shows how Prince set the template for the kind of rhythm heavy, futuristic rock that similarly forward-thinking artists like Andre 3000, Janelle Monae, and MGMT would later follow.
9. Controversy
An epic disco hook, in-the-pocket chicken-scratch guitar, and a young Prince asking the questions that he'd spend years struggling gloriously to answer: "Do I believe in god? / Do I believe in me?"
8. When Doves Cry
From disparate parts — Oedipal lyrics, a simple drum machine riff, a mechanical vocal performance — Prince crafts something mysterious and moving. Try to find the full-length album version, which features a nicely haughty neo-classical keyboard interlude.
7. Raspberry Beret
Utterly charming Beatlesesque acoustic pop. "Sweet" is not a word normally associated with Prince, but "Raspberry Beret" spends 3:31 reveling in the first blush of love.
6. Sometimes it Snows in April
Even though it spawned both "Kiss" and this ethereal ballad, 1986's Parade is an often-overlooked jewel in Prince's crown. Seek it out for "April" alone — a heartbreaking goodbye to a recently departed friend that sounds as if it was recorded in a heavenly cloud.
5. Kiss
A skittery rhythm guitar part + a hiccupping falsetto vocal + not much else = a No. 1 hit. It's hard to sound this simply awesome.
4. Erotic City
A b-side from the Purple Rain days, "Erotic City" is a prime example of Prince's ability to blend danceable music with almost avant-garde production techniques. Check out the way the song's fat backbeat is surrounded by strange, high-pitched vocals and overdriven electric guitar.
3. I Could Never Take the Place of Your Man
The sheer musical talent necessary to play a song that moves from folk rock into a psychedelic Latin jam and then climaxes in a shredding guitar solo is one thing. But Prince also had the creative imagination to think to do it.
2. When You Were Mine
Built on a simple beat, dry rhythm guitar, and squiggly keyboard, this minimal new wave rocker is as catchy as anything heralded bands like the Cars or the Bangles ever put out — and those groups never put their go-go melodies to lyrics that allude to a three-way.
1. Purple Rain
This gorgeous gospel ballad is Prince's "Hey Jude," his "Stairway to Heaven," his undeniable stadium-rousing anthem. It's also a rare instance of an epic-length song where the come-down is just as memorable as the build-up.