Perhaps they should have called it "The Long Goodbye."
Michael Jackson's string of London shows — which the singer says will be his last ever in the U.K. — has been extended from an initial 10-date residency at the O2 Arena to a staggering 50-night run.
The initial demand for tickets was so high that fan traffic actually created technical difficulties on the official website. "Unfortunately due to a technical issue, we were unable to facilitate all immediate ticket requests," Ticketmaster director Chris Edmonds said. "Apologies to those fans who were unable to log on, but fans should keep on trying to purchase tickets." On eBay, tickets to the show have skyrocketed to as much as £10,000 (about $14,000) a ticket.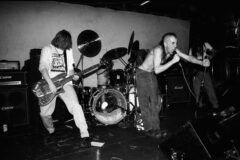 Meanwhile, UK tabloid The Daily Mirror reports to have secured Jackson's setlist — a hits-heavy selection including "Smooth Criminal," "Man in the Mirror," "Beat It," and an encore of "Thriller."
"He's toying with the idea of doing a Jackson 5 medley as well and he'll open with a four-minute-long intro to Billie Jean," a source predicts.
There's no word yet on Jackson planning any additional farewell gigs in other countries.