Despite recent reports of legal troubles and deteriorating health, Michael Jackson has announced a 10-date concert residency at London, England's O2 Arena.
"These will be my final show performances in London," Jackson said during a press conference today at the venue, where the gigs — branded "This Is It" — will begin July 8. "I'll be performing the songs my fans want to hear."
Fans can register for presale tickets via the event's official website. General ticket sales begin March 13.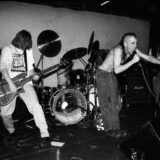 Earlier today, concert promotion company AEG Live's president and CEO, Tim Leiweke, revealed that the 10-date engagement could be extended: "We'll announce 10 shows. I think you'll see 20, 25 dates at the O2," Leiweke said. "His production budget is… Wow." [Via Billboard]
Speaking to rumors of Jackson's failing health, Leiweke said, "The man is very sane, the man is very focused, the man is very healthy… Despite everything you read about him, he was fine. The man took a physical for us to go do these concerts."
There's no word on whether Jackson will add any U.S. performances.
Meanwhile, Jackson yesterday filed a complaint with the Los Angeles Superior Court, claiming that Julien's Auction House — which was scheduled to sell hundreds of Jackson's personal items April 22-25 — had "effectively stolen Michael Jackson's personal property" and had not returned it "despite repeated demands."
In response, Julien's Auction House CEO Darren Julien said he returned the items that Jackson wanted back and has been working with his managers to finalize the auction details. [Via E! Online]