Chris Cornell is teasing us. Is he a mere shadow of his former self, mired in a middling solo career? Or is he still a muscular-voiced rock god to whom we must still pay attention? Or, is he testing the metaphorical waters for something bigger in the next year, like a Soundgarden reunion?
Sunday night's gig at Houston's Warehouse Live gave credence to all three theories, as Cornell and his crack band entertained the crowd for nearly three hours. Instead of a solo derailment, the singer took a career-spanning victory lap, resurrecting Soundgarden classics while nodding to both Led Zeppelin singer Robert Plant and to his days fronting three-fourths of Rage Against the Machine under the Audioslave moniker.
Cornell came out to the computer-generated squiggles of "Part of Me," the opening track off his new solo album, the Timbaland-produced Scream. Timba can somehow make Justin Timberlake sound like a sextastic man-machine, yet in the same hands Cornell comes off like a stuttering Rob Thomas. Live, "Part of Me" sounds like a poorly executed affectation of the Maroon 5 blueprint; it wasn't befitting of the thriving and spry grunge icon that is Cornell. In fact, the crop of new tunes just lingered around as big-budget filler, especially "Scream," which sounded perfectly engineered for a potty break.
But what shined the brightest were the 'Garden tunes, so much so that they came off as a sly road test for a Soundgarden reunion jaunt. Dude whipped out "Gun" from the band's 1989 album Louder Than Love, and followed it up with a sing-along version of "Spoonman."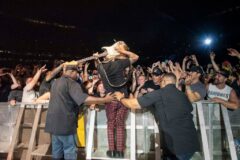 "Rusty Cage" and "Outshined" have aged gracefully, as has "Jesus Christ Pose." Of course, with the rest of Soundgarden playing together onstage in Seattle last week, perhaps Cornell was simply extending an aural middle finger to his estranged bandmates. If you want these songs, his performance seemed to say, then I dare you to pry them from my grasp.
He also threw in earlier solo material and Audioslave cuts to sate the crowd. Audioslave's radio singles were modern corporate rock done right, or at least moderately so, and a grinding "Cochise" was a prime example.
Closing out with a trio of Zeppelin's "Immigrant Song" and Soundgarden's "Like Suicide" and "Black Hole Sun," Cornell left the crowd hungry for more and no doubt debating just how long and gray Kim Thayil's beard has to be by now, and what it might look like thrashing away in a properly reunited Soundgarden. And that sight would surely send anyone clamoring for a special edition Singles Blu-ray heavenward, right out of their Dr. Martens.
More photos from the show >>
Chris Cornell / Photo by Mark C. Austin