For years, there have been Austin shadow parties and festivals in opposition to SXSW's corporate juggernaut — the best, known affectionately as Fuck by Fuck You, booked local (and international) punk bands to squall and scream and spill beer all over the backyard of a venue called the "Typewriter Museum" (the 2009 event was redubbed Type by Type Writer). Then there've been New Yorker Todd P's confoundingly creative, lo-fi noise/punk/folk bashes.
ÂBut this year, SXSW's most ambitious rival came courtesy of Los Angeles underground promoter Sean Carlson, who organized the free, all-day Mess With Texas extravaganza. With sponsors (Sailor Jerry rum) and two stages and a topflight bill in sprawling Waterloo Park, a 10-minute walk from downtown, it was like a mini-Coachella that put to shame the rest of Saturday's schedule (including Kanye West's invasion of the Fader Fort to promote his G.O.O.D. Music imprint). A diverse group of artists from Black Lips to Busdriver to Lucero to Circle Jerks performed from noon until 9 P.M.
Some scattered thoughts: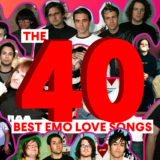 Though their quick-spurt songs are a giddy crash-up of patchwork electronics and guitar screech, Baltimore's the Death Set came on more kooky than chaotic in a lunchtime set. Sunburned co-frontman Johnny Siera looked like an ex-hardcore/emo dude who'd downed a dozen margaritas and was suddenly doing punk-tinged mother-in-law jokes.
As always, King Khan and the Shrines had the cure for what ails. With trademark matching slacks, shirts, and bone necklaces — plus a garage-rock cheerleader in a frilly silver dress shaking pom-poms — they reworked the riff from the Easybeats' "Sorry" 23 different ways, while Khan exhorted the crowd to "pick up the trash and… throw it at somebody!" Later, intro'ing the soulful garage stroll of "Welfare Bread," he asked if anybody here was on welfare; the would-be anarcho-punks sheepishly stared at the ground. "I zought you people were in crisis," added the heavily accented German guitarist. Then Khan burned a one-dollar bill. Guten tag.
Abe Vigoda guitarist Juan Velazquez Click to enlarge
Grandaddy's Jason Lytle seems ageless — he could be 30 or 60 — hunched behind a keyboard, ballcap pulled low, strumming an acoustic guitar on the Side Stage, in a little valley surrounded by trees, the bucolic mood spoiled only by a parking garage in the background. "It's not right for a human to be this drunk this early in the morning," he cracked. But when he yelped "Stray Dog and the Chocolate Shake," with the line about kids "burnin' out and doin' lawn jobs in the park," it was fairly idyllic.
Best sly stage patter: hilariously fey dude from Abe Vigoda: "Hey man, I can hear Cursive playing over there, I really really liked those guys when I was in high school (ninth grade, to be exact, he further clarified). However, his band's wobbly clatter bore little resemblance to the thunderously arty emo from across the way.
With her short blue dress, cowboy boots, and big hollow-body Gretsch guitar, Thao Nguyen jangled and wailed and rag doll-flopped and charmed the crap outta everybody, singing the best lyric of the day: "You gotta push all the doubt to the side of your mouth."
It's pretty stunning how the Thermals — who seemed like they'd eternally be upstarts — have become total pros, with Hutch Harris and Kathy Foster assuming the role of new-school answer to Superchunk's Mac McCaughan and Laura Ballance: Punky pop (onstage) couple with smarts and cool and clear-eyed songs about love and fear.
Will it ever happen for Bobby Ray "b.o.b." Simmons or Kid Sister? The hip-hoppers, one exceedingly likable (Kid Sis) and one insanely talented (b.o.b.) seem locked in major-label purgatory, and though they both have the ability to create pop hits, will they drive themselves batty trying? Both can play to just about any crowd (including this one), though b.o.b. almost seems too supremely confident in his superstar steez. It's one thing to impress people — a hot MC who can actually rap and play guitar/piano without embarrassing himself! — it's another to connect on a deeper level. "Generation Lost" needs a generation to actually hear it.