Do not attempt to adjust your monitor. The digitally manipulated images in Kanye West's video for 808s and Heartbreak track "Welcome to Heartbreak" are intentionally dizzying and psychedelic — and they look pretty sweet!
The clip, directed by Nabil Elderkin (Common, John Legend), was posted to Kanye's blog last night with the following message: "This is the video we've been working on for the last month. We know there is another video out there using the same technique so we were forced to drop it now."
The other video he's referring to is Chairlift's "Evident Utensil." Whose effects are better? Watch both videos below and tell us what you think in the comment section.
Watch: Kanye West, "Welcome to Heartbreak"
https://player.vimeo.com/video/3256023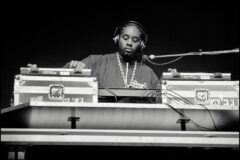 Chairlift, "Evident Utensil"
https://player.vimeo.com/video/3139412