Gang of Four Entertainment! EMI, 1979 Leeds University Marxists ill-advisedly set out to save the world by deconstructing disco's profit motive. Compact harmolodic rhythms turn serious-minded slogans into indelible hooks; Andy Gill's Hendrix riffs rip; cowboys exploit Indians.
Prince Dirty Mind Warner Bros., 1980 A shock, at least to legions of new wavers who'd never noticed his '79 metal blitzkrieg "Bambi." The 22-year-old one-hit disco-pop wonder switches into black bikini briefs and knocks out rock as brief as the Ramones and tough as the Stones. Eight songs — several filthy — in less than 30 minutes. He never topped it.
Was (Not Was) Was (Not Was) Island, 1981 In deepest Detroit (okay, Oak Park), with soul crooners and free jazzers in tow, a pair of Mensa candidates get out their chemistry kits and dream Reagan B-movie nightmares. Later, they deteriorated into a joke act, and Don Was devolved into a respectably bland producer. But here — and on the otherworldly "Wheel Me Out" and prescient "Christmas Time in Motor City," both added to the CD reissue — they even freak out the freaks.
Material One Down Elektra, 1982 From secretly prog New Yorkers on the No Wave cusp (led by bassist/producer Bill Laswell), an utter anomaly that miraculously doesn't stiffen up the sweet groove it appropriates from Chic, LaBelle, and electro rap. Biggest surprise: In a beautiful ballad written by a guy from Soft Machine, with Archie Shepp blowing avant sax, Whitney Houston makes her vinyl debut.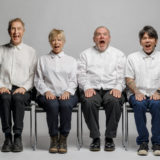 Big Flame Rigour: 1983–1988 Drag City, 1996 Starting with an anti-commercial, anti-rockist, anti-album "statement of intent" that carries Gang of Four's didacticism to absurd extremes, these abrasive Manchester "cubist pop" brats herky-jerk till the break o' dawn.
ESG ESG: A South Bronx Story Universal Sound, 2000 Four teenage Scroggins sisters, encouraged by their mom to start a band so they'd stay out of trouble, invent a spare parking-lot blues that bridged the early-'80s gap between Public Image Ltd. and Chicago house music.
Various Artists In the Beginning There Was Rhythm Soul Jazz, 2002 With Margaret Thatcher rising and right-wing punks shaving heads, these late-'70s, early-'80s British bands — the Pop Group, A Certain Ratio, Slits, 23 Skidoo, and more — counter with beats from the street (and tape splicing in the studio).
Delta 5 Singles & Sessions 1979–81 Kill Rock Stars, 2006 Gang of Four as a Girl Group — well, three girls and two guys, naturally from Leeds, with bass lines at the forefront. "Mind Your Own Business" and "You" are as wise and witty as the Shangri-Las.