A poker tournament with rich rock legends?!? Perfect! Deal us in!
Anthrax guitarist and professional poker player Scott Ian has teamed up with online poker website UltimateBet to host an exclusive online tournament, "Scott Ian's Home Game." Metallica's Kirk Hammett, former Guns N' Roses guitarist Slash, Pantera's Vinnie Paul, and Alice in Chains' Jerry Cantrell are all in on the game, which will allow 20 lucky contestants to challenge the rock gods for a $10,000 prize.
11-time World Series of Poker winner Phil Hellmuth and World Poker Champion Annie Duke will also be playing. Hey, the house has gotta do what the house has gotta do.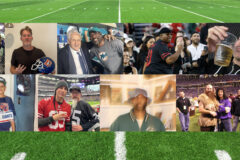 To enter, head over to UltimateBet.com, click on the "Free Download" button at the top of the page, and sign up for a chance to get a seat in the most rock'n'roll poker game ever!
Oh, and winners will also be able to chat with the legends during the game, you know, to try and shake their cool. So practice your momma jokes!