Wedding receptions are awesome: free booze, finger food, and fancily-dressed singles. What more can you ask for? Oh, how about Pavement reuniting to play a cover of Bob Sinclair's "Rock This Party"? You got it!
According to The Nashville Scene, that's what about 250 fans got at Pavement multi-instrumentalist Bob Nastanovich's wedding reception last Saturday in Nashville. Local fans, drawn to a local venue called The 5 Spot by rumors of a Pavement reunion, first found the Silver Jews playing covers. Soon Stephen Malkmus took the stage to play Redbone's "Come and Get Your Love" and the O'Jays' "Love Train" — then Steve West, Mark Ibold, and Nastanovich joined him onstage, along with dozens of partygoers, to rock out!
Scott "Spiral Stairs" Kannberg was the only member missing. But this "reunion" is the first time this many members of Pavement have shared the stage since their 1999 split.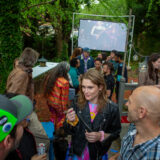 So will this lead to a full-fledged reunion? Maybe, if the price is right. Who knows? Maybe the father of the bride has deep pockets and footed the bill for an indie-rock wetdream.