Hey, Sonic Youth fans: Been wishing for a follow-up to 2006's Rather Ripped? On June 9, hope springs… in the form of The Eternal, the band's 16th album and first for indie label Matador.
The durable rockers' return to an indie label isn't the only change the group has made: The Eternal will feature bandmembers Thurston Moore, Kim Gordon, and Lee Renaldo sharing vocal duties for the first time, as well as the studio debut of new bassist Mark Ibold, formerly of Pavement. The album's also got sweet cover art, which features a painting by the legendary late experimental folk musician John Fahey (below).
Check out the tracklist and cover art here.
The Eternal tracklisting:
1. "Sacred Trickster"
2. "Anti-Orgasm"
3. "Leaky Lifeboat (for Gregory Corso)"
4. "Antenna"
5. "What We Know"
6. "Calming The Snake"
7. "Poison Arrow"
8. "Malibu Gas Station"
9. "Thunderclap for Bobby Pyn"
10. "No Way"
11. "Walkin Blue"
12. "Massage the History"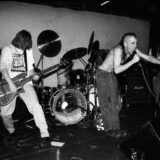 MORE SONIC YOUTH ON SPIN.COM:
>> Sonic Youth Sign to Matador Records
>> Review: Sonic Nurse (Geffen)
>> Sonic Youth Discuss 'Weird' New Album
>> Beck and Sonic Youth Cover Each Other's Songs
>>Yeah Yeah Yeahs, Sonic Youth PlayPoolside in Brooklyn