Say Anything's Max Bemis and Saves the Day's Chris Conley have combined their songwriting powers as Two Tongues. Their self-titled debut album just dropped via Vagrant — and you can hear one its best tracks, "If I Could Make You Do Things," right here on SPIN.com!
"It's the first song that really introduced the dynamic between the vocals — it has both of us singing in it — and it sort of explained the relationship between the characters," Bemis tells SPIN.com of guitar-led track, which features a vocal duel with Conley.
"My character is trying to get Chris' character to value himself more, and then Chris is trying to stress me out — he needs me to be patient and let me take my time with it. It's a really emotional song, because you think about all the risks and leaps of faith that you take in any relationship or any friendship. Being brave enough to overcome those things is such an emotional thing for me. It's a struggle daily to do that."
Stream the song below. Then sound off in the comments section.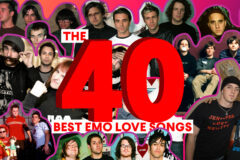 Listen: Two Tongues, "If I Could Make You Do Things"