Today it was announced that Bright Eyes frontman Conor Oberst will release Outer South, his second album with the Mystic Valley Band, on May 5 via Merge Records. No songs have been released yet, but the band performed one track, "Nikorette," on Late Night with Conan O'Brien late last year — and you can watch the footage below.
"Nikorette" is one of 16 songs off the new album, which follows 2008's SPIN-approved Conor Oberst. It was recorded in Tornillio, TX, in November and December of last year, and features the songwriting of Oberst, along with Mystic Valley Band members Nate Walcott (trumpet/piano), Jason Boesel (drums), Macey Taylor (bass), Nik Freitas (guitar), and Taylor Hollingsworth (guitar).
Conor and the boys have six shows scheduled for April (see below).
Watch: Conor Oberst and the Mystic Valley Band, "Nikorette"
https://www.youtube.com/embed/GYiyoHouAHA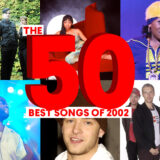 Conor Oberst and the Mystic Valley Band tour dates:
4/9, Omaha, NE (Slowdown)
4/10, Denver, CO (The Ogden Theater)
4/11, Aspen, CO (Belly Up)
4/12, El Paso, TX (Barnett Harley Davidson)
4/13, Albuquerque, NM (Sunshine Theater)
4/14, Tempe, AZ (Marquee Theater)