Kanye West's Storytellers performance will premiere on VH1 February 28 at 9 p.m. EST — but some of his more controversial comments regarding Radiohead and Chris Brown that he made during the taping will not make it to TV.
According to Reuters, Kanye lashed out at Thom Yorke after the Radiohead frontman had allegedly snubbed him at the Grammys five days before taping, telling the Storytellers audience that it hurt because he idolizes the band."So when he performed at the Grammys, I sat the fuck down," West stated.
Kanye later shared his thoughts on the alleged domestic abuse incident between R&B superstar couple Chris Brown and Rihanna: "Can we give Chris a break?… I know I make mistakes in life."This wasn't the first time Kanye had commented on the incident, having previously come forward in Rihanna's defense: "I feel like she is the most important artist in music and has the most potential. Her taste level and her age… she has the potential to be the greatest artist of all time."
West went on to state that Michael Jackson and Michael Phelps were "amazing" ("he's a real fuckin' person; he makes mistakes," West added of Phelps' marijuana scandal), and even included former football player and alleged murderer O.J. Simpson in their company: "O.J. Simpson, amazing. Is he not? What he did, when he did, what he did. Was he not amazing though?" Though edited, these comments will appear in the broadcast.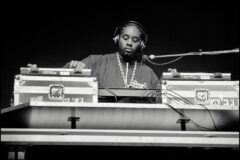 Storytellers executive producer Bill Flanagan explained that Kanye's comments were excised from the broadcast due to time constraints, rather than due to the fear of potential controversy: "A lot of the stories that Kanye told went long. I tried to get to the essence of his comments."
Check out a sneak peek of Kanye's VH1 Storytellers session below, with a clip of him performing "Stronger," from 2007's Graduation.
Watch: Kanye West, "Stronger" (Live on VH1 Storytellers)