A few signs that the end of the world is near:
One: Rampant greed has brought a great nation to its knees.
Two: A recipe calling for "two pounds bacon, two pounds sausage" has inflamed America's kitchens.
Three: The video for "Thriller" is being made into a Broadway musical.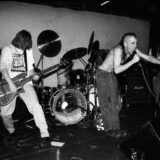 Yes, it's true. You try to scream, but terror takes the sound before you make it. Or in my case, you clamp your hands over your mouth and struggle to conceal your joy. Because your deep, dark secret is that you love Broadway musicals, have as much Sondheim as Franz Ferdinand on your Nano, and can't wait to see a 26-year-old, 14-minute music video explode before footlights in a flurry of moonwalks and jazz hands.
The funny thing is, I don't like the subgenre that such an endeavor seems to fit. That would be "jukebox musicals" — those high-dollar Broadway shows that rework FM radio standards into razzle-dazzle song-and-dance numbers slapped around a coming-of-age tale or nostalgic period piece. So when I first read that bigwig producer James Nederlander (Legally Blonde, Thoroughly Modern Millie) was adapting "Thriller" to the stage, it was indeed a fact that almost stopped my heart — as I recalled all the stellar pop recently butchered on the Great White Way.
Abba? Sublime. Seriously. "Dancing Queen" is the Parthenon, the Ninth Symphony, of modern pop-song craftsmanship. But Mamma Mia? Why crowds continue to flock to the Winter Garden Theatre to see that hokey tale of a paternal confusion boggles my mind. Not even Meryl Streep could save it for me.
Elvis Presley? In middle school I watched all of his movies — even Harem Scarum — and plastered a temporary tattoo of his visage on my ankle (earning me very few cool points in homeroom). But All Shook Up? You couldn't pay me enough.
Was Yoko brainwashed into allowing an ill-conceived, song-slaughtering biopic like Lennon to take the stage? Was Bob Dylan high when he told Twyla Tharp, "Sure, go ahead and use my songs for a body-jerking, trampoline-jumping circus fantasia called The Times They Are A Changin'"? And how many times did Johnny Cash roll over in his grave during the ignominious, four-week run of Ring of Fire? (Apparently Billy Joel's Movin' Out and the Four Seasons' Jersey Boys were good enough to score Tonys, although I prefer to think that's because 2003 and 2006 were slow Broadway years.)
All of those musicals started out as discrete, unrelated songs meant for sock-hops, concert halls, or discotheques. Then someone bought the rights and tried to dangle them all on a storyline — with the expected effect. How can this method possibly work? It's always going to feel forced, especially when it's playing to an audience familiar with the music (which includes pretty much anyone who'd pay $100 to see a corrupt circus ringmaster do grande jetes while belting out "Desolation Row").
Ah, but here's the genius of Thriller the Musical: Nederlander isn't basing it on the song; he's basing it on the video. An all-singing, all-dancing, all-zombie video with a storyline more fully formed than an entire season of Grey's Anatomy. It is, arguably, the best music video of all time. For those of you who haven't seen it in a while, do yourself a favor and watch it right now. Right here.
Amazing, right?
Fun conceit, speedy exposition, the sickest dance moves in video history. Perhaps most amazing is just how convincing Michael is as an average, date-going, varsity-jacketed dreamboat (I love how he chews movie popcorn with his mouth open). Watching it, can't you imagine this making a good musical? It's as if Michael and director John Landis wrote it for the stage.
And history has overlaid certain moments — like Michael's confession he's "not like other guys" — with a richer subtext than anything by Andrew Lloyd Weber. Obviously you'd have to beef it up a bit: add more of a back story, show the couple's courtship, maybe let the audience in on the fact that Michael's a zombie early in the first act to build up the sympathy factor. I can imagine some great ballad, a la "On My Own" from Les Miserables, where he sings about how tough it is to be a teenage zombie and how no one "gets" him. Actually, they could just adapt "Human Nature." Heartbreaking.
But really, this stuff writes itself. I see Nederlander marketing it to future investors as "one part Rocky Horror Picture Show and two parts Phantom of the Opera, with a dash of Jesus Christ Superstar thrown in for good measure." And of course, Peter Pan.
The big question, of course, is who is going to write the rest of the music? Word is that Nederlander is going to use some songs from Thriller and Off the Wall, which I find dangerous. A zombie would never sing "Billy Jean" — they can't reproduce! — and "Rock with You" is, if you'll forgive me, no graveyard smash. But with original, "Thriller"-esque tunes, this could put an end to the abominable jukebox genre and usher in a new Broadway form: the video musical.
Which has me thinking… Axl Rose is looking for a new project. Four words: November Rain: The Musical. I'm just saying.
Watch: Michael Jackson, "Thriller"