Dave Grohl's performance behind the drums in support of Paul McCartney at the Grammys was pretty sweet, but it left us wondering: When is the ex-Nirvana sticksman planning to record with his main gig, the Foo Fighters? According to Foos drummer Taylor Hawkins, it may be soon.
"We've gotten together and minced ideas already," Hawkins told NME.com of the band's follow-up to 2007's Echoes, Silence, Patience & Grace. "Just basic ideas and we'll probably do that over the next year until we have a log of ideas… I'd say maybe by summer we'll get in the studio and start getting serious about a record."
Hawkins also addressed the complications of working with a frontman who is also an accomplished drummer. "[Dave Grohl's] a complete control freak, but he's the nicest control freak you ever meet in your life," he explained. "He tells me what to do but we work off each other as well. He's become a great singer and songwriter but he's a drummer first. When we're working together on music, not only do you have one drummer's ideas but you have two of them coming from totally different places."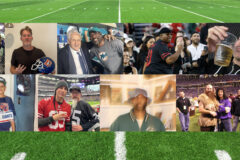 But music isn't the only thing Grohl and Hawkins are thinking about these days. Both of their wives are expecting babies before summer.