The Black Keys certainly had reason to veer from their trademark raucous blues sludge Saturday night in New York City. On the band's 2008 album, Attack & Release, studio wizard Danger Mouse added a psychedelic layer to their Delta-blues/'60s-garage-rock hybrid, replete with extras like an eerie choir from "Psychotic Girl" and a Moog synthesizer from "Remember When (Side A)." Also to consider: Singer-guitarist Dan Auerbach's debut solo album, Keep It Hid, is set to be released this week. Would this somehow affect the Akron, Ohio, duo's dynamic?
A few ragged rock riffs and cymbal crashes into their gig at NYC's Terminal 5, the third date of their first U.S. tour since last fall, and it was clear this was a straight-ahead Keys show: Auerbach positioned to drummer Patrick Carney's left, with not a keyboard or backup singer in sight.
While the band's critics have, at times, pointed out a sameness to their music and a lack of clear melodies, a big part of what's appealing about them, especially live, is the elemental, stomping build of each song, which takes on an entrancing rhythm over the course of a show and is elevated by the virtuoso caliber of Auerback's guitar work. Often compared with Jack White (and not only because he's in a garage-blues duo from the Midwest), Auerbach's able to create a thicker, fuller sound than seems possible with just one guitar — playing riffs and slides while adding bass lines with his thumb.
As evidenced by Saturday's show, the Keys don't do sing-along anthems; however, a few songs, including "Your Touch," off 2006's Magic Potion, set the audience pogoing, and "I Got Mine," from Attack & Release, provided dudes in the crowd a fist-in-the-air exclamation of self-empowerment.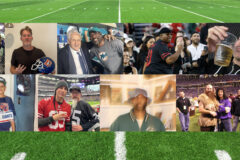 Naturally, the Keys heavily mined their most recent album's material, dragging out and slightly reshaping most its songs, but it was "Girl Is on My Mind" and final encore "Till I Get My Way," both off 2004's Rubber Factory, that proved most satisfying to the masses who eventually funneled out of the venue both sweaty and exalted.
Drummer Patrick Carney / Photo by Ben Shapiro
The Black Keys' Dan Auerbach / Photo by Ben Shapiro
Patrick Carney / Photo by Ben Shapiro
The Black Keys / Photo by Ben Shapiro