The Beastie Boys are completing the follow-up to 2007's instrumental affair The Mix-Up in their New York studio. And according to Adam "MCA" Yauch, it will be a "bizarre" effort.
"There are a lot of songs on the record and there are a lot of short songs and they kind of all run into each other," he told the BBC. "It's a combination of playing and sampling stuff as we're playing, and also sampling pretty obscure records."
The upcoming effort will also be "very wordy" and include plenty of "fart jokes" too, Adam "Ad-Rock" Horovitz recently confirmed.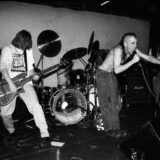 Yauch said the working title for the new record is Tadlock's Glasses — don't worry, there's an explanation: "We had a bus driver years ago who used to drive Elvis' back up singers. His name was Tadlock and Elvis gave him a pair of glasses, which he was very proud of. So for some reason that title — Tadlock's Glasses — has just been bouncing around."
A release date for the album has yet to be announced, but Yauch claims the band are "tweaking some mixes and we're going to master it in the next couple of weeks."
The trio's only confirmed live performance is a headlining slot at this year's Bonnaroo festival.