In the past nine years Guns N' Roses mastermind Axl Rose has seldom spoken to the press. And this new in-depth interview, just posted to Spinner, is no exception. Here Rose is speaking with longtime friend and tour manager Del James — which certainly explains Rose's candid and often heated answers.
Rose waxes about the delays of his just released album, Chinese Democracy, plus the band's new material, his former bandmates, and much, much more. Here are the highlights:
On New Songs: "What I can say is if you don't like [Chinese Democracy], then you probably won't like [the new songs]. Same people, lots more approaches, bit meaner in places and darker in some. Robin does a really great Stevie Ray Vaughan-type solo on one track."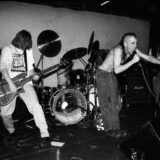 On Former Guns N' Roses Guitarist Slash: "Slash either should not have been in Guns to begin with or should have left after [1988's GNR Lies]. In a nutshell, personally I consider him a cancer and better removed, avoided — and the less anyone heard of him or his supporters, the better."
On a Reunion with GNR's Original Lineup: "It'd be highly doubtful for us to have more than one of the alumni up with us at any given time. I suppose Duff could play guitar on something somewhere, but there's zero possibility of me having anything to do with Slash other than by ambush, and that wouldn't be pretty…Steven [Adler] brings assorted ambulance-chasing attorneys and the nightmare of his mother. One gig, or even a couple songs, could mean years of behind-the-scenes legal aftermath."
On Chinese Democracy's Delays: "Guns in any lineup wasn't going to release anything all that great any sooner. And no matter how any of us tried, that didn't happen… In regard to so-called 'perfectionism,' I feel that has a lot to do with your goals or requirements with whatever one's doing or creating… Generally, when this term is used by others in regard to me or how I work, it's said in a negative way or as an excuse for their shortcomings — and again by my detractors. Some people love putting others in a negative light; helps them feel better about themselves. Too many ears and too many stupid comments have proven that."
Click here to read the whole interview.