Sonic Youth, who ended their 18-year partnership with Geffen Records last year to join New York indie label Matador, seem to be taking advantage of their new label's notoriously hands-off attitude: "[It has] heavy ass weirdo hooks," guitarist/vocalist Thurston Moore told Billboard.com of the group's yet-to-be titled 16th album, expected to drop this summer.
The record, Moore explained, is heavily influenced by Portland, OR, punk rockers the Wipers, a band also championed by Nirvana's Kurt Cobain (Nirvana even covered the Wipers' song "D7"). "When I started writing, I was immersed in listening to the Wipers," Moore told Billboard. "'No Way,' the first song we recorded, has a total Wipers vibe, if the Wipers were a No Wave band."
"It's rock-centric, but still experimental," he added.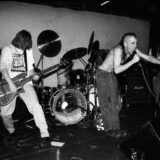 Moore also said his lyrics were inspired by black metal bands, though he didn't specify which, and said the record will also include songs such as "Leaky Life Boat" and "Burning Shame," a tribute to Fred "Sonic" Smith, the former guitarist for Detroit punk pioneers MC5 who died in 1994.
"We're super inspired to make a fresh start. We're glad to be dealing with a label that loves songs," Moore said of Matador. However, the rocker confirmed "we're still Sonic Youth — I still don't know how to play the guitar."