Though Radiohead have been nominated in the Album of the Year category three times — in past years for OK Computer and Kid A (both of which bagged Best Alternative Album wins) and this year for In Rainbows — the British band is going to make their first Grammy performance at this year's ceremony, set for Feb. 8 at Los Angeles' Staples Center.
We knew something was up when we heard frontman Thom Yorke agreed to take part in the Grammy ad campaign.
Even more additions have been made to the show: Paul McCartney will perform with Dave Grohl on drums, Justin Timberlake and T.I. will join onstage, and Jay-Z, Lil Wayne, T.I., and Kanye West will unite in a special performance of their hit single "Swagga Like Us."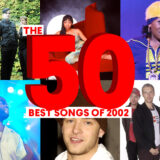 Tune into CBS Sunday, Feb. 8 at 8 P.M. EST to watch the 51st annual Grammy Awards show.