Bad news for people looking to take a shot at mouthy Oasis frontman Noel Gallagher: The man responsible for attacking the guitarist onstage at last September's Virgin Mobile Festival in Toronto is facing up to 14 years in prison.
The alleged assailant, Daniel Sullivan, 47, was charged with one count of aggravated assault yesterday in a Toronto court — an upgrade from his original assault charge.If convicted on aggravated assault, Sullivan faces a maximum sentence of 14 years in prison, compared to the maximum of five years that he initially faced.
A reason for the elevated charge has not been announced by officials.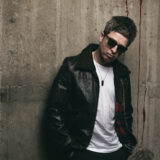 Sullivan is accused of jumping onstage during Oasis' performance and tackling Gallagher to the ground, breaking two of the guitarist's ribs and forcing the band to cancel several tour dates.