Singer-cum-restauranteur Justin Timberlake is back with new music. Following his recently leaked collaboration with T.I. is "Bigger Than the World,"which you can hear below!
The tune, which leaked to the web yesterday, is from Big Mike and DJ Neptune's new mix-tape, R & B Kings 2009, which also features tunes by Chris Brown, Rihanna, and Usher. The song was produced by Timbaland [via Idolator.com].
The leak of "Bigger Than the World" is similar to that of Eminem and Dr. Dre's "Crack a Bottle," which hit the web as a rough demo last November thanks to another mix-tape, Big Mike and DJ Neptune's 4th Quarter Pressure Part 2. Soon after, Eminem released an official version of the song, which will appear on his much-awaited album, Relapse.
Below, listen to Timberlake's tune, which kicks off with an electric guitar riff and finds the former boy-bander singing over piano, strings, and a beat reminiscent of his biggest hit, "My Love."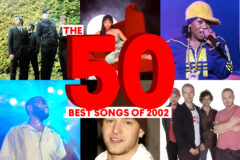 Listen: Justin Timberlake, "Bigger Than the World"