For a band whose recorded output is consistently stellar, Animal Collective have never been a reliable live act; their sets have ranged from great to incomprehensible. But last night at New York City's Grand Ballroom, the art rockers kicked off their U.S. tour and celebrated their critically-acclaimed ninth studio record, Merriweather Post Pavilion, with an excellent, hour-long set that featured both Merriweather highlights and fan favorites.
The pounding sing-alongs of "Summertime Clothes" and "My Girls" had the floor shaking from dancing fans, while "Fireworks," a ballad off 2007's Strawberry Jam, was a standout with its colliding drums and extended coda that emphasized the song's swooning melody.
Even unreleased new tune "Blue Sky," with its spiraling vocal melodies and danceable break-beats, was a crowd-pleaser despite the audience's unfamiliarity with the song.
The show's more experimental moments were also breathtaking: Merriweather's "Guys Eyes" was a kaleidoscope of layered harmonies. And singer/multi-instrumentalist Avey Tare's mouthful of vocals on "Lion in a Coma" added a certain mania to the original song's spastic keyboards, percussion, and background drone.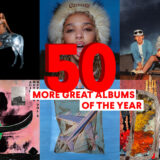 Merriweather standout and set centerpiece "Daily Routine" served as the night's true moment of serenity. As singer/ drummer/ sampler-wizard Panda Bear crooned about waking up to take his daughter to the park and making sure he has his "keys and coat and shoes and hat," a cavalcade of laptop-generated tones crashed down and the crowd burst into spontaneous applause.
After years toiling in obscurity, Animal Collective have hit the big time. And with their spot-on, inspiring show they hinted that their "it" status may extend well past 2009.
CLICK HERE FOR MORE PICTURES FROM THE SHOW
Set List:
"In The Flowers"
"Leaf House"
"Blue Sky"
"Guys Eyes"
"Summertime Clothes"
"Daily Routine"
"Lion in a Coma"
"Lablakely Dress/Fireworks"
"My Girls"
"Brothersport"
"Banshee Beat" (Encore)
"Slippi" (Encore)

Animal Collective's Panda Bear, aka Noah Lennox / Photo by Matt Kiser

Geologist, aka Brian Weitz / Photo by Matt Kiser

Avey Tare and Panda Bear / Photo by Matt Kiser