These days you're more likely to see a rock star sipping champagne in the mezzanine during intermission than admiring a freshly-trashed hotel room. From plays to musicals, operas and beyond, it seems musicians are taking the stage in new and inventive ways.
The latest: Sonic Youth and Led Zeppelin bassist John Paul Jones. The musicians are set to collaborate on a piece written by mixed-media sound composer Takehisa Kosugi, which will soundtrack a new work by the Merce Cunningham Dance Company. The show — dubbed "Merce Cunningham At 90" — is the dance company's birthday tribute show to its namesake choreographer and will debut April 16-19 at the Brooklyn Academy of Music. [Via Pitchforkmedia.com].
Meanwhile, System of a Down's Serj Tankian has also joined the culture posse. Tankian is collaborating on Prometheus Bound, a new rock-based musical from Spring Awakening lyricist and book author Steven Sater [via Rollingstone.com].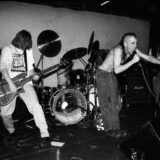 The musical, which is due to be staged by Cambridge's American Repertory Theatre during their 2009-10 season, is based on the Greek myth of Prometheus and will star Gossip Girl's Patrick Heusinger as the mortal who steals fire from the Gods. "I stayed very faithful to the ancient Greek text," Sater said.
Well that's a relief. No one likes it when you mess with the classics. Hey Serj: What's ancient greek for "fuck the system" again?