Before Wednesday night's show at Madison Square Garden in New York City, Liam Gallagher's contemptibility had just about slipped my mind. After all, it had been seven years since I last saw Oasis live.
It didn't take long for him to get back into my bad graces. The weirdly annoying rooster strutting, the Fonzie collar-flipping, the impassive stares into the audience, the sneering "fooks." Oh yeah, I remember this guy — he's the arrogant bastard from Oasis. (See concert photos here.)
If Liam were in almost any other band, he would be utterly unbearable. Instead, as the lead singer for one of the few remaining acts that can reliably pack an arena with rabid fans ready to sing the deep cuts, he's oddly compelling — the embodiment of what makes Oasis interesting. These droogs write soaring, stomping, galvanizing rock songs.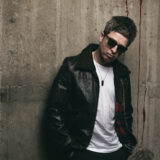 It's the songs that truly make their show worth checking out. Liam's passive-aggressive posturing is as much as these guys put out in terms of performance. Standing in one spot is to Oasis what scissor kicks were to David Lee Roth.
But even though much is made of rock music as performance art, Oasis's set is a strong argument that, in the end, the music matters. "Wonderwall" and "Lyla" would've sounded awesome played by a troop of monkeys.
Instead, Wednesday night, those songs were played by five Brits in moptops — and they sounded great. There's a line in the gorgeous "Don't Look Back In Anger" in which Noel sings, "So I start a revolution from my bed." On it's own, it sounds preposterous. Sung by 20,000 people, it sounds something like fact.
Similar sing-alongs arose on "Champagne Supernova," "The Masterplan," and "Slide Away."
As pure pieces of rock'n'roll songcraft, those songs (among the band's best) are undeniably impressive — full of fuzzy, descending chord progressions, crashing drum fills, psychedelic guitar breaks, and always gorgeous melodies, all delivered at full volume. And if newer tracks like "The Meaning of Soul" and "The Shock of the Lightning" didn't inspire mass chorales, they didn't send people streaming for beer either.
Though he might not have shown it, I suspect that even Liam was satisfied with that reaction.