Well, we know at least one band that won't be sending "congratulations" balloons to Damon Albarn and Co.
Scottish post-rockers Mogwai responded to the recent announcement that Blur would be reforming with a melodramatic blog entry to their website, claiming the reunion "could have catastrophic effects on our youth and middle-aged citizens." [via Exclaim!]
They even brought in an expert to bolster their claim.
"Only Patrick David Xavier McMeneman-McHanarahan, our re-union specialist, can even start to describe the disastrous potency of this formative party's re-grouping on the world's already dangerous pre-apocalyptic position.? He says, 'Their imperial designs know no bounds and we will have to use all of our vigor and guile to disperse this potential doomsday-making scenario, else we sprint toward a life-ending britalocalypse.'"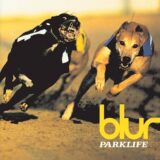 The group also offered up a nursery rhyme from their expert ("Damon Albarn: Taller than a Chinese tree; Graham Coxon: Not a bumblebee; Dave Rowntree: Diddy Doo Diddly Doo Labour loser Doo Diddly Doo; Alex James: Cheese master in more ways than one") as well as a merchandising plug: "Anyone fancy a 'Blur: Are Shite Once Again' T-Shirt?"
Considering the current state of the economy, we're not sure now is the best time to be launching a new T-shirt line. Back in the day we could have promised you at least two customers, but now you can't even count on them.
Watch: Blur, "Parklife"
https://www.youtube.com/embed/bKCoBt43HWE