The holiday season is here and what better way to celebrate than with performances from your favorite bands? Seattle radio station 107.7 FM The End couldn't agree more and invited a few friends to join the festivities at the city's WaMu Theater Tuesday night: hometown heroes Death Cab for Cutie, plus the Killers, Cold War Kids, Shiny Toy Guns, and Aqueduct.
More on SPIN.com:
>> The Killers, Day and Age (Island)
>> Death Cab For Cutie, Narrow Stairs (Atlantic)
>> Cold War Kids, Loyalty to Loyalty (Downtown)
>> Artist of the Day: Aqueduct
Below, check out pics from the show and remember — have a rockin' holiday!
The Killers' Brandon Flowers / Photo by Alex Crick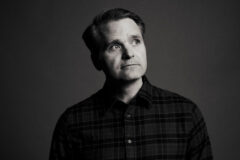 The Killers' Brandon Flowers / Photo by Alex Crick
Cold War Kids' Nathan Willett / Photo by Alex Crick
Death Cab for Cutie's Chris Walla Photo by Alex Crick
CWK guitarist Jonnie RussellPhoto by Alex Crick
Sisely Treasure and Jeremy Dawson of Shiny Toy GunsPhoto by Alex Crick
Aqueduct's Andy FittsPhoto by Alex Crick