Call it spidey sense. Call it months and months of rumors and statements from band members about meals that went well. Call it a hint this morning about "a world exclusive announcement" that fans are "going to like." Not to brag, but we had a feeling this was going to happen.
Reunited and it feels so "not completely useless or pointless." Those are the words Damon Albarn used to announce that yes, indeed, Blur is back together. "It just felt it was right again," he said. "It somehow feels like there's something for us to do again, we're not completely useless or pointless, we've got a reason to exist."
Graham Coxon added that the band were "making public what's been going on privately. For the benefit of the fans and those interested we can say that something's on the cards."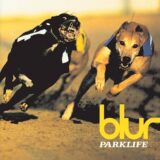 That "something" is a Blur show featuring the full original lineup — Damon Albarn, Graham Coxon, Alex James, and Dave Rowntree. The gig will be the band's first gig together since guitarist Coxon quit in 2002 and will take place in Hyde Park, London, on Friday, July 3. Blur is also rumored to be next year's Glastonbury Festival headliners. Stay tuned for more.