Ah… the side-project: Always there to harness creative left-turns and bring the like-minded — and often wildly dissimilar— musicians together. The latest: Two Tongues, a new group formed by Say Anything vocalist Max Bemis and drummer Coby Linder, and Saves the Day frontman Chris Conley and guitarist David Soloway. The quartet's 13-track self-titled debut album, recorded last year at Electric Ladybug studios in Northern California, will drop February 3 via Vagrant Records.
"Making the record, and it being the first band either of us (Bemis and Conley) has ever been in outside of Say Anything or Saves the Day, was sort of like falling in love for the second time," Bemis said of the project. "You have to look outside of yourself and learn to communicate with and trust someone who operates in a totally different manner."
Conley, apparently, feels the love as well: "Working with Max was a dream come true for me. I have never met another musician as inspiring and talented. My heart was in it from the moment of inception. As it turns out, we work together quite well!"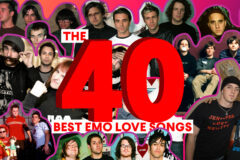 Aww, you guys!