Set your TIVOs, dear rock'n'roll foodies: The Foo Fighters' much ballyhooed guest-judging appearance on Bravo's high-stakes, super-popular cooking competition Top Chef, will air Nov. 26, EW.com reports.
Titled "Foo Fighters' Thanksgiving," the episode will find the show's remaining contestants attempting to create the perfect dish for the Foos while the band rests between sets at a tour stop in Rochester, NY. No word yet as to where Dave Grohl and Co. stand on the eternal "stuffing vs. cranberry sauce" debate, but after sampling the Top Chef contestants' dishes, one can only hope that they'll reach for an appropriate post-dinner mint.
Top Chef head judge Tom Colicchio recently gushed about the Foos' appearance on New York magazine's restaurant blog, Grub Street. "The funny thing with Dave was that right before we go out to do our entrance, he's like, 'I'm so excited. This is my favorite TV show. I can't wait!'" Colicchio said. "They're really into food. Some of the things he said … it was hysterical. I would just look at him and be like, 'What did you just say?' He would be like, 'the sear on the meat could have been a little better, you know, I think you needed a little more seasoning.'"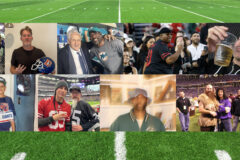 Whatever his culinary chops, there are no plans for Grohl to take over one of the Top Chef judges' seats for good, lest we be deprived of the ravishing Padma Lakshmi and adorable Gail Simmons.