B-Real, the lead MC in blunt-wrapped rap group Cypress Hill, has one major "hobby" in common with the pride of Long Beach, CA, Snoop Dogg… rapping, duh! Below, in an exclusive SPIN.com permiere, you can hear the two get to work on "Dr. Hyphenstein," a cut off B-Real's upcoming solo debut Smoke N Mirrors.
The song, produced by Real himself, is a club-ready banger complete with a stomp-and-clap beat that also features guest appearances from Young De and Trace Midas.
For more, pick up Smoke N Mirrors when it drops Feb. 24, 2009.
Listen: B-Real, "Dr Hyphenstein (ft. Snoop Dogg)"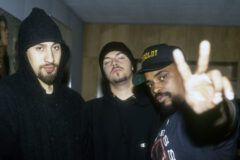 Smoke N Mirrors tracklist:
1. "Children of The Night" (feat. Bo Roc / produced by Scoop Deville)
2. "Gangsta Music" (feat. Bo Roc / produced by Soopafly)
3. "Don't Ya Dare Laugh" (feat. Young De / produced by Scoop Deville)
4. "Everything You Want" (feat. Buckshot / produced by Soopafly)
5. "6 Minutes" (feat. Young De & Tek / produced by Alchemist)
6. "Pyscho Revolution" (feat. Sick Jacken / produced by Sick Jacken)
7. "Fire" (feat. Damian Marley / produced by B-Real)
8. "10 Steps Behind" (feat. Young De & Tek / produced by J. Turner)
9. "Get That Dough" (feat. Mimi / produced by Fifth)
10. "Dr. Hyphenstein" (feat. Snoop Doog, Young De & Trace Midas / produced by B-Real)
11. "Stack' N Paper" (produced by J. Turner)
12. "1 Life" (feat. Sen Dog and Mal Verde / produced by B-Real)
13. "Dude VS. Homie" (produced by J. Turner)
14. "When They Hate You" (feat. Mimi / produced by Salaam Wreck)
15. "When Were F*cking" (feat. Too Short, Kurupt and Young De / produced by J. Turner)