"Tuesday. You gotta fuckin' vote," Beastie Boys' Ad-Rock told a sold-out crowd at the Roy Wilkins Auditorium in St. Paul, MN, Saturday night, where the New York hip-hop act — along with Tenacious D and Ben Harper — played the second to last show of the Get Out and Vote '08 Tour.
The night's first performer, Tenacious D, provided a little comic relief with a sampling of their silly acoustic rock. Later the D joined Harper for a rousing and hilarious cover of Bowie's "Under Pressure." Despite the wild applause, it was obvious that this show belonged to only one act — the Beasties.
From the moment the three rabble-rousers took the stage, a roar filled the arena — and it was warranted: The Boys haven't performed in the Twin Cities in over 10 years. But with Mixmaster Mike spinning behind the turntables, the legendary jesters of hip-hop strolled through a classics-heavy set as if they had never left. Mike D kept screwing up his rhymes and there were plenty of stops and starts, notably in Hello Nasty's "Intergalactic." As they breezed more easily through such tracks as "No Sleep Til Brooklyn," "Sure Shot," and "So What'cha Want," the crowd waved their hands in the air and chanted along.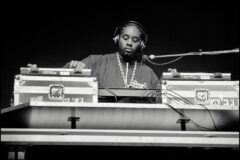 There was just one problem: Mike D was a little lost. "Minneapolis!" he chanted over and over, before being corrected by Ad-Rock, who explained that they were, in fact, in St. Paul. Oops. Nonetheless, they were in Minnesota, a decisive swing state in Tuesday's election. "Get out and vote," they urged the crowd repetitively.
After eight years under George W. Bush and with a strong sentiment of change in the air, the Boys brought the show to an appropriate close with a blazing rendition of "Sabotage." Here's looking at you, Election Day.