It appears Jermaine Jackson spoke a little too soon. Yesterday, the elder Jackson brother told the Australian Associated Press [via NME.com] that for the first since 1989, the Jackson 5, would reunite in 2009 for an album and tour — and that Michael was in on the project. "This has been a long time coming for the Jackson family to get back together," he said. "What we've been doing is working on the music and all the logistics."="http:>
Oops, it appears someone didn't call their brother, because it turns out the King of Pop isn't in on the reunion after all — and has a few other plans of his own.
"My brothers and sisters have my full love and support, and we've certainly shared many great experiences, but at this time I have no plans to record or tour with them," Michael said [via Billboard.com]. "I am now in the studio developing new and exciting projects that I look forward to sharing with my fans in concert soon."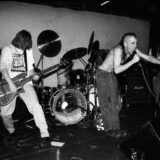 The prospect of a partial Jackson 5 reunion is still exciting, although we're a bit disappointed that Michael won't be involved. Hey Jermaine: We know of a couple of songs that might help convincE him.