"It's heavy and it really hits you, but in a different way. It swings," Franz Ferdinand's Alex Kapranos told SPIN.com of the quartet's forthcoming album, Tonight, before their gig Wednesday night at Brooklyn's Music Hall of Williamsburg. When the boys finally took the stage, the frontman's words rang true in the form of set-opener "Bite Hard," a catchy-as-hell number bolstered by Kapranos' sly-guy winks and lounge-swagger, and Nick McCarthy's stark synth melodies beckoning revelers to the dance floor. "Bye, bye!" the duo cried. "We ride together… we die together!"
Interspersed with fan-pleasing cuts like "Take Me Out" and "Matinee," both off 2004's self-titled debut, and You Could Have It So Much Better's "Outsiders," the new songs — six were unveiled in total — saw McCarthy at the keys pounding out riffs that at times melded slick disco and stark, chugging industrial stylings. Kind of like a party-time soundtrack to Tron.
Kapranos' confident sass and croon took center stage on the "Turn It On," which entered with electronic screeches before exploding in a full-band recoil with anthemic choruses. The duo's shouts of "Let's get high!" punctuated "Ulysses," a pulsating dance-y number with driving bass and drums courtesy of Bob Hardy and Paul Thomason, respectively. "Last night was wild!" the frontmen screamed.
As usual with the unveiling of the fresh material, there were slip-ups. On "Send Him Away," Kapranos couldn't hit the way-too-high vocal notes, and the chattering guitars missed a step or two. But the rest of the material soared. "Katherine Kiss Me" hit with sing-along choruses and crunchy six-string licks, and "What She Came For," which closed the band's first set, was Franz at their best: Kopranos pouting and snarling out sassy lyrics while maximum velocity guitars jangled. "It's like when you're psyching yourself up in your room for a night of hedonism," Kopranos explained of the new tunes. Exactly.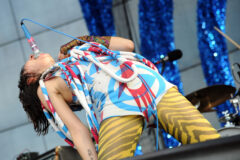 Check out more pictures from last night on page 2.

Franz Ferdinand / Photo by Jackie Roman

Franz Ferdinand / Photo by Jackie Roman

Franz Ferdinand / Photo by Jackie Roman

Franz Ferdinand / Photo by Jackie Roman