Eat your heart out, New York Marathon. Those headbanging neighbors from Canada, Fucked Up, undertook a decidedly different test of endurance yesterday, playing a 12-hour concert in a Manhattan boutique to celebrate the release of their second full-length album, The Chemistry of Common Life.
The show's first half, which kicked off at 2 P.M., saw guest appearances from the likes of Moby and Vivian Girls. But the band's endurance was really tested after 8 P.M., as lead howler Pink Eyes and Co. pushed forward and the crowd circulated rumors regarding guest appearances from Mobb Deep, Akon, and Vampire Weekend's Ezra Koenig.
Sadly, hip-hop and R&B's finest didn't show — although Koenig did turn in several rousing hardcore covers with Fucked Up, as well as a performance of the Ramones' "Blitzkrieg Bop," as the crowd alternately moshed and heckled him for his efforts. In addition to Koenig's appearance, punk lifer John Joseph of seminal hardcore act Cro-Mags, Dinosaur Jr.'s legendary axeman J Mascis, and former Chavez frontman Matt Sweeney all turned in searing guest performances.
Despite the cadre of musical royalty in attendance, it was clear the show belonged to Fucked Up. Turning in sharp blasts of shoegaze-influenced hardcore isn't exactly easy when your fans, who were fueled by plentiful amounts of free booze, are as intoxicated and rabble-rousing as your name implies. Luckily, the band remained unaffected as they tore through Chemistry crowd-pleasers ("Black Albino Bones") and catalog oddities alike (their limited-edition Christmas single) with total aplomb.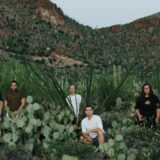 Shorted-out mics, malt-liquor drenched equipment, and a somewhat-too-extended break (two hours of not-so-funny comic duo Earles and Jensen and snooze-a-palooza set from noodling rockers Endless Boogie? Really?) threatened to derail the night — and in a way, they did, as Pink Eyes announced they would be ending a half hour early before tearing into fan favorite "Crusades" as the credits to Pee-wee's Big Adventure rolled on a projection screen behind the band. Paul Reubens at a hardcore show?Now that's fucked up.
Check out more photos from last night >>
Watch Moby play guitar with Fucked Up on the Ramones' "Blitzkrieg Bop"
https://www.youtube.com/embed/4lddCj-OPeI

Fucked Up / Photo by Jackie Roman

Fucked Up / Photo by Jackie Roman

Pink Eyes and J Masics of Dinosaur Jr. / Photo by Jackie Roman

Fucked Up / Photo by Jackie Roman

Fucked Up / Photo by Jackie Roman

Vampire Weekend's Ezra Koenig(right) with Fucked Up / Photo by Jackie Roman

Fucked Up / Photo by Jackie Roman

Fucked Up / Photo by Jackie Roman

Fucked Up / Photo by Jackie Roman