Singing in both English and French, vocalist Laetitia Sadier and this London-based group of music vets continued their epic ambient-electro legacy last night at Austin's La Zona Rosa. Stereolab's professionalism and transcendent tunes won over an all-ages crowd dressed in business suits, jeans, and even a skeleton costume, who hung on every word and bobbed and swayed to each burbling swell and propulsive Moog bounce.
Stereolab performed a solid mix of tracks, beginning with a trio of short poppers off their latest release, Chemical Chords, including the swift rhythms and upbeat melodies of "Neon Beanbags." They then eased into heavier 10-minute jams — like "Percolator" off Emperor Tomato Ketchup — from their mid-'90s albums, sounding more urgent with a cacophony of heavy guitar and synthesizer. Throughout the show a projection reel blasted out-of-focus, looped montages displaying paint splotches and kaleidoscope shapes in perfect harmony with Stereolab's psychedelic sentiment and always innovative craft.
Check out pictures from last night on page 2.

Stereolab's Laetitia Sadier / Photo by Eric Uhlir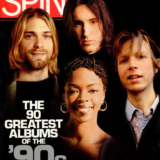 Stereolab / Photo by Eric Uhlir