It was a good thing we had our video phones handy at Friday night's SonicYouth gig in Philadelphia: The band decided to debut two new songs at thetop of their set. Thanks to Converse, who sponsored the event, SPIN.com wasable to invite a Sonic Youth fan to interview the band and film the set witha handheld video phone that posted clips to our SPIN Live player.
Below, check out video that Sonic Youth fan Mike Ryan shot of the band playing "NoWay."
And clickhere to check out more songs and interviews from Sonic Youth.
Plus, come back to SPIN.com later tonight to see video from the Bad Brains/N.E.R.D. show in Chicago.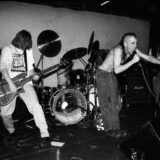 "No Way"